Low carbon label reforestation project
SILAB chose to co-finance a reforestation project, in the Corrèze Department (near to its site), that is in the framework of sustainable forest management in partnership with the CNPF (National center for forest owners).
The reforestation plan calls for preserving the soil and ensuring optimal adaptation to climate change. The first trees were planted in the fall of 2022.
This project compensates the CO2 emissions by all employees during their commuting between home and work.
Using bees to inventory local biodiversity
Since 2022, SILAB has been associated with the company BeeOdiversity for the installation of two hives on its site with the aim of identifying surrounding plant species during the beekeeping season.
SILAB intends using this original approach to study seasonal changes in biodiversity by analyzing the pollen gathered by bees.
The objective is to conduct relevant and targeted actions on local plant biodiversity whose effect will be a positive impact on all ecosystems.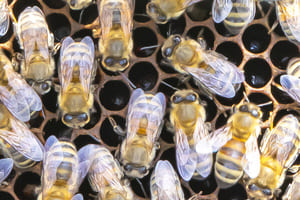 Restoration of wetlands
In 2016, SILAB partnered with CDC Biodiversity (a subsidiary of the French deposit and consignment office) in the framework of the Nature 2050 program that aims to adapt regions to climate change by 2050.
SILAB's commitment involved financing the preservation of a biodiversity surface equivalent to that of its Saint-Viance site between 2016 and 2020, i.e., 7,000 m².
This project has enabled SILAB to contribute to restoring wetlands to preserve head water streams at 60 km from its site.