Support medical research
The SILAB - Jean PAUFIQUE Corporate Foundation provides 20,000 euros per year to support medical research, renewable for up to 3 years.
Regardless of the scientific discipline, this sum supports young doctoral students or post-doctoral researchers having obtained their PhD less than 5 years beforehand.
Their research is required to have a potential application in the diagnosis, prognosis or treatment of inflammatory cutaneous pathologies, in particular skin cancer.
The 14th annual meeting of the Foundation
Close to 80 participants were present in SILAB's amphitheater on Thursday June 23, 2022. This day was the occasion to meet the Foundation's new winner: Anna Llebaria Fabrias, Institut Cochin in Paris (INSERM U1016, CNRS UMR 8104, University Paris-Cité).
This 14th meeting was run by Brigitte Closs-Gonthier, administrator and scientific director of the Corporate Foundation, and included members of the scientific council, the board of directors, former winners and SILAB staff who exchanged information on the latest innovations in biomedical research.
Anna Llebaria Fabrias presented her research project entitled "Influence of enzyme IL4I1 on the microbiota during melanoma development and the response to an anti-PD1 antibody".
She then gave the floor to Léa Dousset and Solène Besson, 2021 and 2020 winners, who communicated the scientific progress of their work.
The scientific meeting ended with a cocktail, with winners, members of the Foundation and SILAB staff in a convivial atmosphere.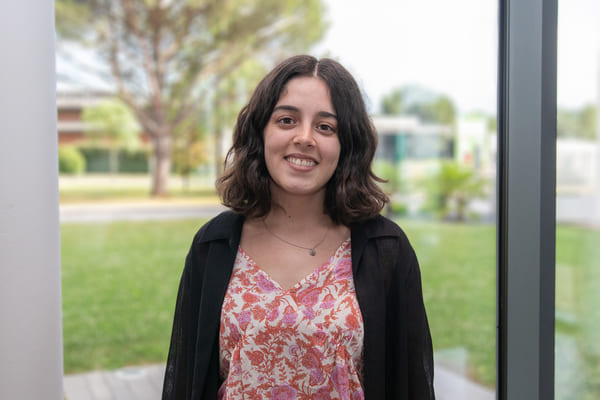 Anna Llebaria Fabrias: 15th winner of the SILAB - Jean PAUFIQUE Corporate Foundation prize
"Young researcher" poster prize
Every year, the SILAB - Jean PAUFIQUE Corporate Foundation supports a young deserving group involved in the study of therapies of skin diseases by awarding a "Young researcher" poster prize at the Journées du Cancéropôle Grand Sud-Ouest (Greater Southwest cancer research days).
For the 17th edition, Carine Dufau was selected for her poster entitled "Dysregulations of ceramide metabolism promote cell dedifferentiation and alter TNF-dependent cell migration in melanoma."
This work was conducted in Toulouse in INSERM UMR 1037, the CRCT (Toulouse cancer research center) and the University Toulouse III - Paul Sabatier.