A preventive approach
In addition to a risk map created from the DUER (Single assessment document for professional risk), the teams concerned rely on feedback from the field by staff and on collaborations with specialized organizations to identify possible areas of improvement.
Every accident or near-miss accident (even minor) results in a specific study to understand the causes and implement the means necessary to prevent them in the future.
Staff is regularly trained and made aware of risks to which they may be exposed.
Special attention is paid to obeying general safety rules and to the instructions specific to each department.
Workstation ergonomics: a transversal approach
Every type of job is the subject of an assessment of workstation ergonomics. The goal is to ensure that every employee is optimally protected, regardless of their job.
Several examples of the steps taken by SILAB are illustrated below.
On the industrial side
A detailed study of each workstation has shown that employees encounter a low number of repetitive gestures as defined by the INRS (France's institute for research and security).
Following an assessment of the needs and constraints of a key production station, however, SILAB invested in exoskeletons to protect the health of its technicians and prevent the onset of lower back pain. They are active assistance devices, easy to install and do not hinder freedom of movement.
On the office side
SILAB is aware that office ergonomics are of fundamental importance and therefore trains office workers on the good practices for organizing their stations and on suitable postures to preserve comfort and health.
Examples are the alternating use of exercice balls and office chairs or ergonomic computer mice.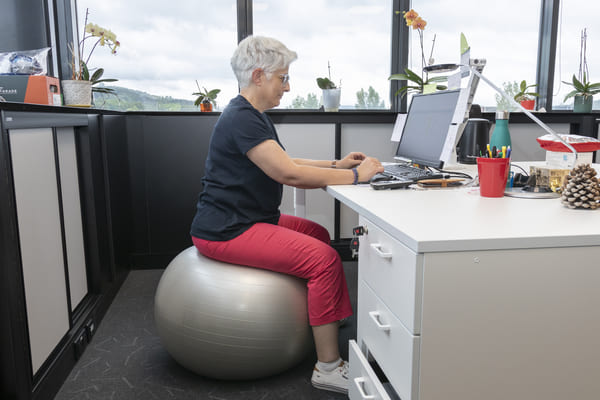 On the laboratories side
SILAB decided on the use of ergonomic chairs adapted to the movements of laboratory staff.
Exoskeletons are also available when carrying heavy loads.
Regular awareness sessions
Our health and safety teams conduct awareness sessions dealing with a variety of subjects.
In-house experts and outside participants, as well as exhibits, deal with several topics of public interest: combat against cancer, combat against addictions, warnings concerning road safety, whether in a car or on a bicycle, healthy diet, physical activity, etc.
3 awareness sessions conducted in 2022